In this article, I want to share three exceptional oils for irritated skin that aren't essential oils. Technically these three oils belong to the class of oils called carrier oils. But they do so much more than simply carry your essential oils. These three oils, and there are many more, have healing active compounds that help relieve itchy, irritated skin and minor rashes.
We're going to look at:
Andiroba Oil
Hemp Seed Oil
But first, I want to clarify the difference between carrier oils and essential oils.
Carrier Oils vs Essential OilsCarrier oils all belong to the class of lipid oils pressed from seeds, nuts kernels and in a few cases, the fatty flesh around the seed (like avocado oil and olive oil). Lipid oils are made up of 85 percent or more fatty acids with the remaining portion composed of compounds like anti-oxidants, tannins, carotenoids and other trace nutrients. This is called the healing fraction and it varies from oil to oil.
Essential oils are distilled from flowers, roots, leaves and bark. The essential oils are actually aromatic compounds. They appear like an oil, but technically they are not a true oil. Essential oils are powerful, healing compounds and valuable raw materials. To use essential oils safely you must dilute them in a carrier oil.
The Lipid Oils
The three oils we are going to look at here all belong to the class of lipid oils. These oils are in general mild, nutritious oils that you can use directly on your skin. But mild doesn't mean inactive. Some oils are more active than others based on a combination of their fatty acid makeup and the healing fraction, that percentage of the oil that contains the nutrients and other active compounds.While minor bumps, irritation and rashes can seem to come and go without explanation, you can find gentle relief and start the healing process with these natural, gentle oils.
Note: make sure to consult your doctor for anything out of the ordinary.
Andiroba oil
Andiroba oil is a botanical cousin of the very strong smelling neem oil but without the extremely unpleasant scent and overly strong actions. Andiroba has a fairly neutral scent while having a lot of the repairing properties neem oil has. Neem oil has a long history of being a skin healing oil but it's also difficult to use because of the strong scent.
When I discovered Andiroba oil was related to neem, I ordered a couple of ounces to start experimenting with as I did more research into the fatty acid profile and active compounds.
Some plants and families are just like that, big helpers when we need them. This plant family, Meliaceae, also known as the Mahogany family is made famous by the beautiful hardwood it also produces. Neem and andiroba along with matura butter belong to the same plant family and all have skin healing, antibacterial properties. Reach for andiroba next time you're making a combination of oils for irritated skin.
Black Seed Oil
Black seed oil (Nigella sativa) is a peppery smelling oil with a long history as a skin healing oil in the Middle East. It comes from the buttercup family Ranunculus, and as far as I know is the only lipid oil that the Ranunculus family produces.
Note: Nigella is the botanical name for black seed oil. This is important to remember as this plant has several common names making it easy to confuse true black seed oil with other oils. Nigella is often found under the common names black cumin seed, onion seed, black caraway seed, and coriander seed. Look for Nigella (Nigella sativa) seed oil and you will get the oil you're after.
The healing properties of this oil are legendary and stretches back to biblical times. Many studies have been done and identified over one hundred identified nutrients including vitamins, minerals, the essential fatty acids, copper, phosphorous carotenes, protein, carbohydrates and fiber!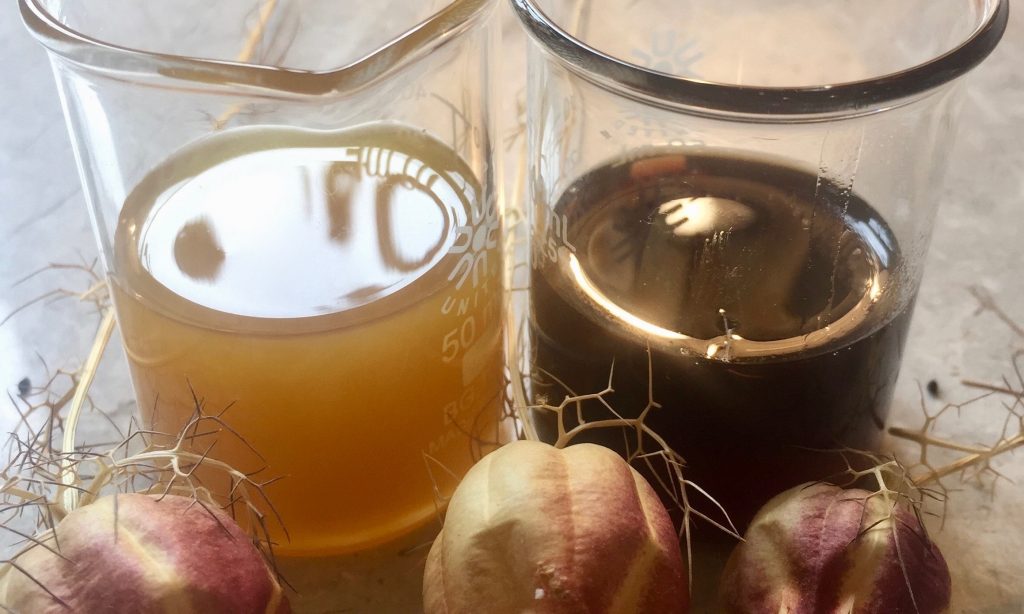 Hemp Seed Oil
Hemp seed oil from Cannabis indica, the same plant that produces marijuana and the CBD extracts. Hemp seed oil is the oil pressed from hemp seeds. Not to be confused with CBD oil.
Hemp seed oil has an unusual range of fatty acids that give this oil its healing properties.
In particular along with a generous linoleic acid and alpha-linolenic acid, hemp seed oil also contains gamma-linolenic acid, GLA and stearidonic acid SDA, two fatty acids known for their anti inflammatory properties and abilities to soothe, calm and repair skin eruptions including chronic and difficult ones.
How to Apply
All three of these oils you can use directly on the skin, or you could create a combination with another carrier oil. There really is no wrong way to do it so experiment, try out different combinations and see what works for you.
To use the oils straight on your skin, apply a few drops to the affected area and massage in.
Here's a few ideas for combining these oils with other oils to create a skin soothing blend…
Combining Oils for Irritated Skin
So let's look at possible combinations with other oils to help the skin. Combination Ideas
For Very Dry Skin
For very dry and flakey skin, try combining one of these oils with a combination of oils high in oleic acid. Examples of oils high in oleic acid are avocado oil, camellia oil, almond oil and olive oil.
Choose an oil high in oleic acid. This oil can make up 50% or so of the total Then add one of the three oils we looked at above at 20 to 25% of the total. Then make up the difference with another oil of your choice. Jojoba oil is a nice all around skin nourishing oil. The 20% to 25% of the active oil, like Andiroba oil, Black Seed Oil or Hemp Seed Oil will give your combination the skin soothing effect you are looking for.
For People Sensitive to Oleic Acid
Not everyone can tolerate oils high oleic acid well, so in this case I would recommend creating a base with a polyunsaturated dominant oil. Oils high in polyunsaturated fatty acids include kukui nut oil, raspberry seed oil, grapeseed oil and cucumber seed oil. Black seed oil and hemp seed oil are also high in polyunsaturated fatty acids.
For Inflammation
For inflammation, you can further customize your skin soothing oil combination. Adding oils like evening primrose oil, borage seed oil or black currant oil will help calm inflammation and redness. These three oils are high the fatty acid GLA, gamma-linolenic acid and good oils to reach for when treating inflammation.
For Dry Skin
If the skin isn't well nourished, pale and dry looking, adding a little pumpkin seed oil to your combination will help nourish and restore the skin.
Pumpkin seed oil is very dark and thick so you'll want to make it only about 10 to 15% of the total you are mixing.
Here's a short video I made on how these oils help sooth and calm irritated skin.
Have you worked with one of these oils before? Leave a comment below. I'd love to hear your thoughts, experiences and discoveries.