is it the best oil for skincare?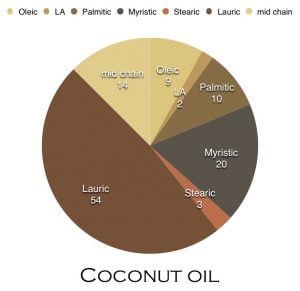 Seriously, coconut oil has got an amazing PR account going on its behalf, up there with Volkswagen or Apple. Within the last month I counted over 30 uses for coconut oil in a dozen different blogs including titles like "why coconut oil is the only oil you need for your skin" or "seven ways to use coconut oil for your life." The list included the full range of skin care, plus weight loss, nail and hair care, treatment for cold sores, and even stuck zippers. And there was more much more.
So what's with the coconut oil mania? It might be our way of easing back into the fact that oils are good for us. In fact it has many fine points and is an excellent choice for cooking, my favorite way to use it. Being primarily saturated it won't break down with high heat and go rancid on you like olive or grapeseed. It is rich in medium chain fatty acids, which are easier to digest than other longer fatty acids and has anti microbial actions due to the properties of these medium chains. As massage oil it has a good slip and feel on the skin. I suggest using the virgin oil, which is light and smells faintly of coconut.
For general skincare however, there are better choices. The fatty acids of the coconut oil while fairly light, are still saturated and coating, rather than being able to penetrate and absorb easily. Below are skin conditions and types with oils I recommend and use for them; dry skin, oily skin, aging skin, and challenged skin. These are the oils that go into the salves and creams that we make for you. I've listed five suggestions for each but there are many more. Natural oils being so versatile can be used interchangeably for a number of skin treatments.
My favorite oils:
for dry skin: argan, jojoba, avocado, marula, meadowfoam
for oily skin: (yes, oily skin can use oil, just has to be the right ones), camellia, hazelnut, rosehip seed, grapeseed, jojoba
for aging and sagging: pomegranate, apricot kernel, moringa, rosehip seed, cranberry seed,
for challenged skin, redness, skin conditions: kukui, sacha inchi, black seed, kiwi seed, hemp seed and chia seed.
So many oils, so little time!