Above: Uccuba butter melted and solid.
I've been working on a recipe for a dry balm these past few weeks.
My objective was to create a hand balm that felt light on the skin, while also moisturizing and protective.
And while it's true that oils are known to be oily, some are actually considered "dry".
These dry oils and butters coat the skin with a thin film of lipids that allows you to continue about your work on computer, paper or other oil sensitive materials.
In my research for this project, I focused in on finding dry butters – saturated oils that are thick and solid at room temperature – and here is a list of six that I came up with.
Babassu
Kpangnan
Murumuru
Uccuba
Also
Sal butter
Cupuaçu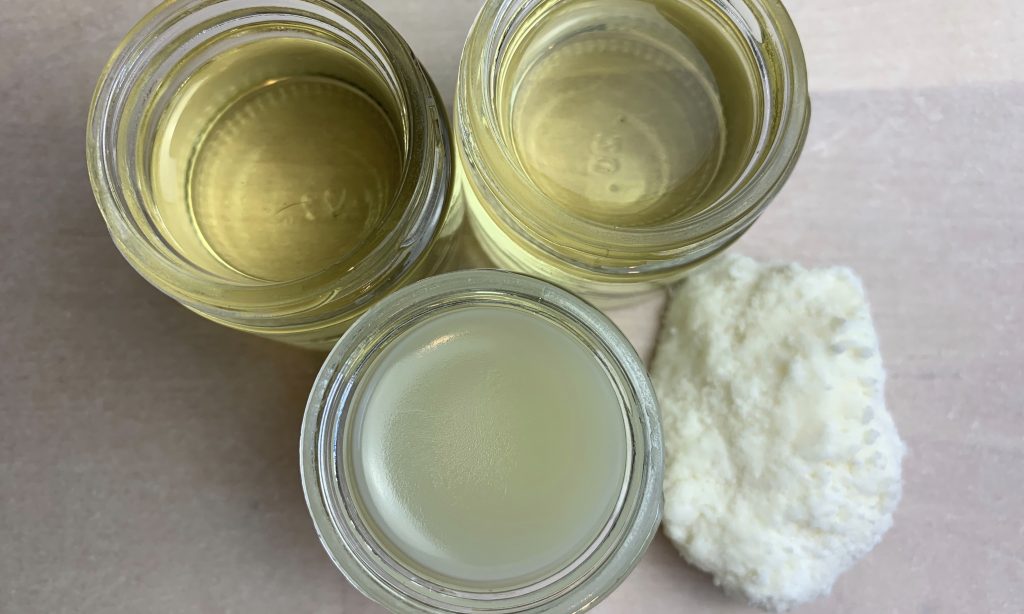 I've split them up into two groups.
During my experiments, I found that the first group didn't go gritty once the balm cooled.
With formulating skill the Sal butter could make an exceptional dry balm but it would take expertise and technique to get it to cool without going gritty.
Cupuaçu didn't become objectionably gritty but I did find some evidence of roughness a few days after it cooled.
Cupuaçu, however, might be worth adding anyway. This is an interesting and unique butter that is often called "vegan lanolin". Cupuaçu butter can absorb four times its weight in water, making it an exceptional protective lipid for the skin.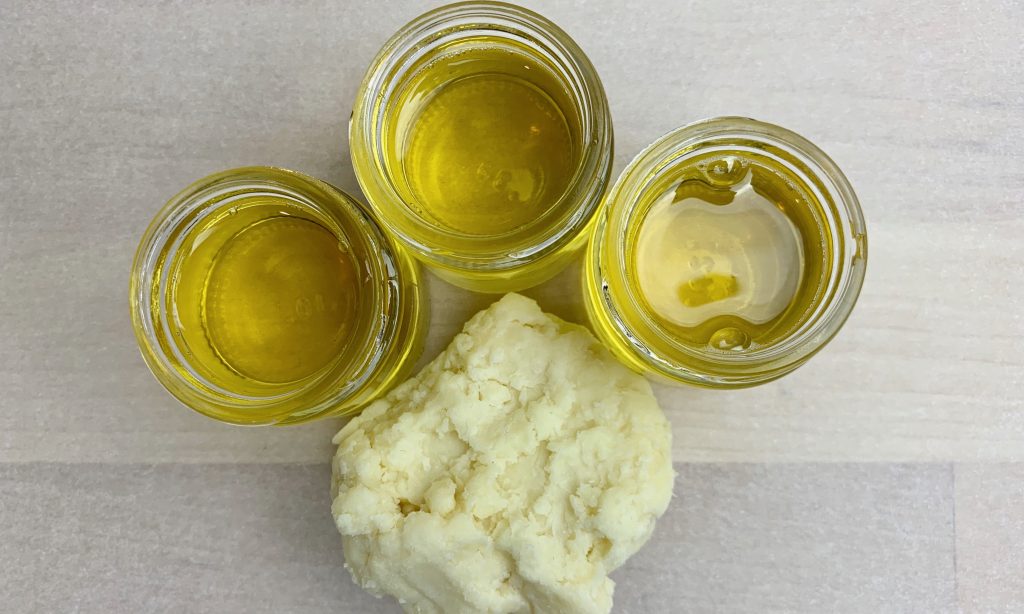 I've gone through a few different combinations and this is what I have found developed so far:
I have made a successful balm using equal parts Babassu, Kpangnan, Murumuru, and Uccuba butters.
I used these four butters alone without a wax to help solidify them. Because they are all saturated butters, the balm cooled solid.
This combination came out fairly solid but using just a bit on the back of a fingernail, worked into the hands felt nourishing and moisturizing without being too heavy.
To lighten it, you could add a fifth equal part of a liquid oil like camellia or hazelnut. Both these oils are considered "dry" oils so adding either one would soften the balm without making it oily.
Recipe
1 Part Babassu
1 Part Kpangnan
1 Part Murumuru
1 Part Uccuba
Optional add:
1 Part Camellia seed oil or hazelnut seed oil
Method
Melt together the four butters over low heat. I always use a cast iron saucepan as I find it distributes the heat most evenly.
Once all four butters are liquid, add the camellia seed oil or hazelnut seed oil and mix then remove the pan from the heat.
It's always best practice to heat oils and butters as little as possible, just enough to bring them to a liquid mixable state.
Have your jars or tins ready, pour and set aside to cool before putting lids on and storing.
Have you worked with these "dry" butters yet? I'd love to hear about your experience and experiments in the comments below.