One of my favorite oils, this one from the Pacific basin, is Tamanu Oil. The tree has so many 'common names' over such a wide area, there is no other easy way to describe it except to jump to the Latin even if it is a mouthful of a name.
Caulophyllum inophyllum
Common Names
The tree, Caulophyllum Inophyllum has common names where it grows around the Pacific.
Here's a few:
Beach calophyllum
Alexandrian laurel
balltree
beautyleaf
Borneo-mahogany oil tree
Indian-laurel
Indian doomba
And that's just a few common names from the tree that produces tamanu nuts.
The oil we get from the nuts has a whole different set of common names.
Here's a few:
Tamanu, in Tahiti;
Kamanu, in Hawaii;
'fetau, in Samoa
faraha, in Madagascar
Caulophyllum Inophyllum oil also goes by the name Dilo oil in Fiji,
But if you're looking to order online, you'll most likely find this oil under the names Tamanu and Foraha.
Tamanu Oil for Skincare
What is so special about the oil?
Firstly it is thick and viscous but not solid like cocoa or shea butter. It has an interesting smell, kind of nutty, with a pungent but 'healing' scent.
Naturally colored green and very thick, Tamanu will knit up just about anything going on on the skin. It even has a reputation of successfully treating diseases like leprosy.
This oil shares the usual triglycerides and plant compounds customarily found in carrier oils and other vegetable oils, Oleic, Linoleic, Palmitic and Stearic acids.
A Unique Fatty Acid Makeup
But, unique to Tamanu, is a wholly new fatty acid, Caulophyllic acid. It also contains glyco-lipids, which are lipids with starches attached, phospholipids, and a new compound, calophyllolide, an anti-inflammatory agent first found in this oil.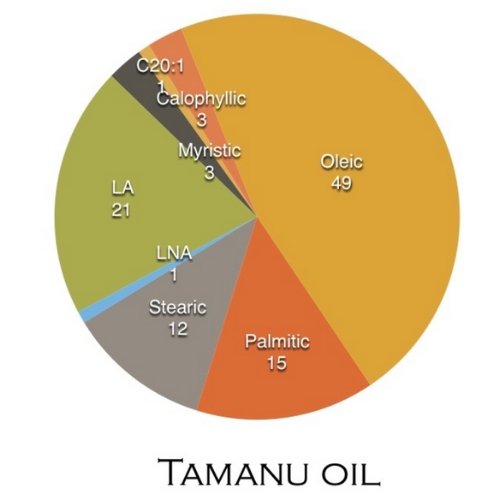 Tamanu Oil Fatty Acid Makeup
INCI – Caulophyllum inophyllum
With this unusual composition, Tamanu absorbs deeply into all three layers of the skin where it has been demonstrated to rapidly regenerate new skin, repair nerves and diminish scarring.
Useful in the treatment of sciatica, rheumatism and shingles, it also treats eczema, psoriasis, chapping, burns, cracked skin, fissures, and infections and historically, even leprosy. Open wounds and serious breaches of the body have been repaired by applications of the oil. It is anti-inflammatory, anti-bacterial and analgesic while being non-irritating.
Green Gold
The oil is referred to as "green gold" for its color and healing properties.
Of the botanical family Clusiaceae, which includes Mangosteen and St. John's wort, it is a rightful member of this healing, nutritious and therapeutic family of plants.
Add tamanu oil to your recipes, and look for it on ingredient labels to find powerful treatments for skin problems.
And on already healthy skin, tamanu oil's wonderful properties will maintain a healthy glow.
Have you used Tamanu oil yet? share your experiences with this lovely green lipid in the comments below.